As many in the computing industry know, tablet computers are not a new idea.'a0 We had Windows-based tablets in the middle of last decade that came from heavyweights such as HP, Acer and Dell.'a0 However, the devices failed to go mainstream in the business community and have since been relegated to the medical profession where doctors carry tablets around during exams to record and display patient information.
However, since the iPad debuted in April, the tablet game has changed.'a0 The very popular device sold 3 million units in just 80 days and the industry has now reacted and we're starting to see new tablet ambitions.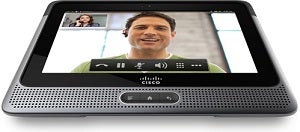 This week, Cisco unveiled the Cius this week, a 7 inch tablet computer that is squarely aimed at Cisco's enterprise customers.'a0 Pronounced "see us", the device will be based on the Android operating system, weight 1.14 pounds, be powered by an Atom processor, and hop on the net via Wi-Fi or 3G.'a0 Also, a 4G model will be offered in the future.
The heart of this devices' functionality is video conferencing, and to that end, the Cius features a front-facing camera capable of capturing 720p video and a rear-facing 5MP camera.
Tablet On The Rise
The Cius represents a shift in thinking in the computing industry.'a0 Before, the tablet computers were just Windows computers that had Windows crammed in them and were supposed to be capable of being an 'everything computer'.'a0 Now, with the iPad show the industry that you can create an appliance tablet device, the other big players are taking note.
The Cius is a smart extension of Cisco's Telepresence platform.'a0 Using stock hardware and the open source Android OS the are using the tablet buzz to further extend the companies' existing business models.
More Touch Devices = More Touch Content
Of course, with the iPad and coming Android tablets, web publishers are going to be turning out loads and loads of mobile touch content.'a0 This will only further the progression and popularity of the mobile touch web, a key area of content we've been focusing on lately in a series of reports.
For more context, research and fascinating use cases, check out the reports and also check out Taptu on your favorite touch device.