Introduction
Motorola has hit the ground running with their Android phone offering. The Motorola Droid is the fastest selling US Android phone and shows no signs of slowing down. Meanwhile, to address the a lower price point and perhaps a different market, Verizon has debuted the Motorola Devour.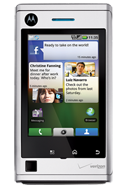 On paper, the Devour is very similar to the Motorola Droid. It has a similar feature set: a capacitive touch screen and slide out QWERTY keyboard all running on the Google Android platform. The Devour is priced at $50 less than the Droid, making it a bit more approachable for cost-conscience phone buyers.
Design
When you slide the Devour out of it's box, you sense the girth of this device.  It's constructed of aluminum and it feels very solid, although a little bulky.  Verizon's Devour is 4.4″ long x 2.4″ wide x 0.6″ deep.  The all-aluminum casing makes phone feel like a tank.  So solid that you could drop it and not worry about dinging up it's interior.
The Devour has a bright 3.1″ screen that comes in at 480×320 pixels.  Looking at the front of the phone, the screen looks odd and small when compared to the rest of the body.  Also on the front of the device are the back key, home button, and menu control.  There is also a thumbpad which allows you to use it as a cursor, much like an eraser head control on a laptop.
The display is bright and very usable.  As a capacitive touchscreen, it's highly accurate and very responsive.  However, the screen is just a bit too small.  After using the Droid, I'm used to a larger screen for utilizing Android and the Devour just doesn't seem to fit my usage well.
Sliding open the Devour's screen reveals a black keyed QWERTY keyboard.  The construction on the slide mechanism feels very solid.  I would imagine that after many drops and years of usage, this mechanism would continue to perform well.
On the top of the Devour is a 3.5mm headphone jack and power key.  The sides house the volume rocker and camera button on the left hand side and the battery and charger port on the opposing left side.
Software and Capabilities
Unfortunately, the Motorola Devour runs Android version 1.6.  This is a deterrent to me because Android 2.0 is such an improvement for the Android platform.  I found the Motorola Devour to be buggy and unstable.  Many times I had to restart applications and sometimes the entire phone to get functionality to go back to normal.
One unique factor about the Devour is that it runs MotoBlur.  This suite of programs from Motorola allow you to manage your social networks including Facebook, Twitter, MySpace, Picasa, and Last.FM.  Also, there's a cool mail application for syncing your personal and corporate email accounts.  MotoBlur also allows you to backup your contacts and locate your device if you ever lose it.
As with any Google Android phone, you'll find the suite of Google apps including: Google Maps with Google Navigation, Gmail, Google Search, Google Talk and YouTube.  The standard Android web browser (a strong point of Android) is included, however with the Devour, you are blessed with Flash Lite.
Business users will be happy to know that Exchange contacts, email and calendaring is supported about of the box along with contact syncing.  It was nice for me to have my work and personal calendars on me at all times with the Devour.
One area of disappointment with the Devour was the camera.  It seems that the sensor on this 3.2 megapixel shooter is just too small, making the phone incapable of snapping good photos with decent color depth or brightness.  When releasing a phone of this magnitude, aimed at social networkers and data hungry smartphone users, Motorola should at least put a decent camera on the Devour.
Applications and Usage
Within a few minutes of turning on the Devour, I installed many of my favorite applications including Foursquare, Facebook, Seesmic, Weather Channel, and NPR News.  Using the Android Market is really a pleasure and the Devour handles these apps well.  According to a source I read, the Devour has a 600 Mhz processor and moving between applications and using them is fluid and smooth.
Verizon's network, as always, performed very well.  The EVDO connection is solid and fast, providing fast downloads no matter where I was.  Call quality was excellent both for me and for those who I called.
While I had the Verizon Devour…a huge application came out (for me anyways).  Verizon released Skype Mobile.  The app, which I demo'd in video, allows you to make Skype calls, send Skype IM messages and set your status.  When you make a Skype call, the minutes do not count against your monthly Verizon minutes.  As I call people all over the world in Skype, this is of huge benefit to me.
Conclusion
All in all, the Motorola Devour is a very capable handset.  It does have a screen that is too small and a crappy camera on it, but if you're looking for a social networking friendly phone, the Devour will suit your needs.
Honestly, if I were advising a friend on which Verizon phone to get, I'd still suggest that they get a Motorola Droid.  The Droid is only $50 more and has some amazing features including a battery camera, Android 2.0, a much larger more vibrant screen, and a more usable keyboard.
The woes I experienced combined with the crummy image quality of the Devour just push me to favor the Droid.  Plus, the Droid is simply a better product that is selling like hotcakes for a reason.
Also, the most recent phone to Verizon's lineup: the HTC Incredible is also only $50 more at $199.99.  The Incredible has an amazing 8 MP camera, huge 3.7″ screen and a blazing fast 1Ghz processor.
Bottom Line: Skip the Devour and buy a Droid or Incredible.  It will be the best $50 you ever spend.